At iTherapeutics, we are committed to providing high quality product education in a fun and interactive format. Members not only benefit from quality, up to date product information, but they are also rewarded along the way!
The iRewards program is designed to reward you for the education modules you have completed. Redeem your points for FREE Eftpos or Movie Tickets. You can also take advantage of numerous competitions and exclusive travel offers.
iTherapeutics Travel Club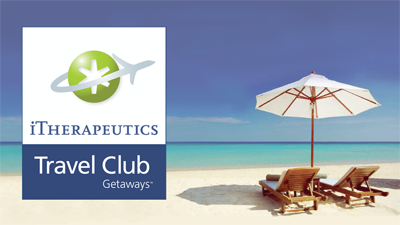 Travel Club provides iTherapeutics members with access to amazing and 'exclusive' travel deals and benefits, including a consultant dedicated to creating your ideal getaway!
iTherapeutics Travel Club members have access to -
Specially negotiated holidays and travel offers
The highest possible customer service levels and value for money deals
The widest range of airfares, tours, cruises, hotels and holiday packages
Same day quotes and the
Lowest price guarantee
Gold Membership
At iTherapeutics, we believe you deserve to be rewarded for your expertise and dedication to learning. So when you successfully complete 60% of the education modules on iTherapeutics, you become a Gold Member!
With Gold Membership you'll have:
More valuable iRewards points as you can redeem prizes using less points!
Prize draws throughout the year exclusive to Gold Members.
When you first reach this exclusive milestone, you'll also receive:
200 Bonus iRewards Points.
A Gold Member Certificate.
Additional 5-10% Kogan Discount at Check-out.
Competitions
There are numerous competitions that run throughout the year which offer you the opportunity to receive-
Free Product Samples
Eftpos Cards
Retail Gift Cards
Coles Group and Myer Gift Cards
Travel Vouchers and
Kogan eVouchers, just to name a few!
For your opportunity to be part of the iTherapeutics iRewards program, join iTherapeutics today. Why wait, it's free!